KitSwap™ is a simple and efficient first aid kit management system. It is based on a similar concept used for BBQ gas cylinders.
Instead of spending time and cost auditing first aid kits, customers can simply "swap" their first aid kit for a fresh, clean, and fully stocked kit.
KitSwap™ can be a fully managed system which would reflect a rental program, a pay as you go system, or can be customised for large corporations.
There are 4 standard first aid kits in KitSwap™:
Standard Hard Case
Standard Soft Case
Soft Case for food industry
Soft Case for Sports clubs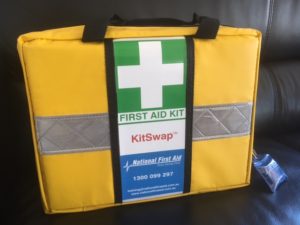 Ideal for
Small to Medium Businesses that require at least 3 first aid kits onsite (manufacturing, warehousing / distribution centres), Industry, Building, Office sites
Large businesses and corporations
Fleet vehicles
Café / Restaurants
Sports Clubs
The benefits
Flat fee – ease of budgeting (includes contents)
Efficient – minimal time onsite with no need to return
Kits are clean and stocked
Contents are always in date
Pricing
Product
Managed System
Pay as You Go
Standard Hard Case
$30 pm quarterly swap
$35 pm monthly swap
$145 Initial purchase
$75 for Swap
Standard Soft Case
$35 pm quarterly swap
$45 pm monthly swap
$165 Initial Purchase
$85 for Swap
Food Industry Kit
$35 pm quarterly swap
$45 pm monthly swap
$165 Initial Purchase
$85 for Swap
Sports Kit
Not Available
$180 Initial Purchase
$90 for Swap
Contents:
| | |
| --- | --- |
| 1 | Albupore paper tape (2.5cm) |
| 6 | Alcohol Swabs |
| 10 | Antibacterial wipes |
| 1 | Burn gel (3g) |
| 1 | Instant cold compress |
| 2 | Combine dressing (10 × 10) |
| 4 | Conforming Gauze (7.5cm) |
| 1 | Cotton crepe (10cm) |
| 2 | Cotton crepe (5.0cm) |
| 3 | Cotton crepe – heavy (7.5cm) |
| 1 | Dressing strips (fabric – 50) |
| 4 | Sterile eye pad |
| 1 | Eye bath |
| 5 | Eye wash (15ml) |
| 1 | Gauze swab (100) |
| 4 | Gloves (disp) – Pkt 2 |
| 2 | Low adherent dressing (10 x 10) |
| 2 | Low adherent dressing (10 x 7.5) |
| 2 | Low adherent dressing (5 x 5) |
| 1 | NFA Biro |
| 1 | NFA Handy Hints |
| 1 | Protective floor cover |
| 6 | Rapaid Antiseptic cream (1g) |
| 1 | Rapaid Antiseptic spray 50ml |
| 1 | Resuscitation mask (disp) |
| 10 | Safety pins |
| 1 | Scissor (12.5cm) |
| 1 | Shears |
| 1 | Splinter forceps (12.5cm) |
| 5 | Splinter probe (disp) |
| 1 | Thermal blanket |
| 2 | Triangular bandage |
| 1 | Wound dressing (no 13) |
| 1 | Wound dressing (no.14) |
| 5 | Wound dressing (no 15) |