Restock your First Aid Kits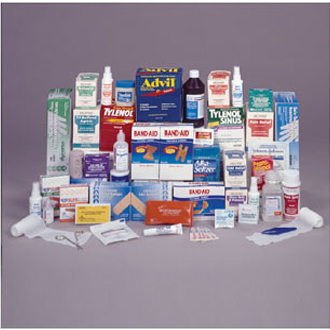 National First Aid can maintain your first aid kits and ensure they are always fully stocked, providing an onsite first aid kit restocking service or via an electronic ordering system.
NFA advises that it is best practice to have all first aid kits checked / replenished on a regular ongoing basis.  Most first aid kit contents generally have an approximate 2 year shelf life and need to be replenished, or if opened, need to be replaced.
OHS Regulations require customers to ensure workplaces are safe and that first aid kits are maintained and in good order.
Restocking service options:

Self Managed Restocking
First Aid kits and supplies can be ordered via phone, email, or online. Your request for stock will be packed and sent to you within 48hours.  NOTE: Our online store contains a good selection of available first aid supplies.  There are always many other alternatives.  If you can't find exactly what you need online contact us and we will be able to help.

First Aid Kit Refills & Modules
Having trouble trying to find someone to audit your first aid kits?  Do you also want to avoid the on site visit costs?
Take control of replenishing or adding to your kits and meet ongoing compliance requirements by ordering NFA first aid modules or first aid kit refill packs online.
NFA understands that various First Aid Kit contents  may not always be suitable to your workplace environment. To help with workplace risk management, specific injuries can be quickly treated by upgrading your kit with various add-on modules.
These modules are designed to help assess where particular workplace hazards exist  and target  "low, medium or high risks"  in line with the Victorian Compliance Code – First Aid in the workplace.
Modules are available for eye injury, snake bite, kitchen burns and injuries, and burns (small and large modules) .
NFA also provides various workplace First Aid Kit "refills".  These are industry standard or can be customised to suit the workplace,  home, sport, leisure etc.
NFA has taken the headache out of what you require in your first aid kits whilst still adhering to the Victorian Compliance Code – First Aid in the workplace.
You can order a refill to replenish your existing first aid kits.  By doing so, you will help manage workplace hazards and various injuries.

On Site Restocking Service
NFA provides a restocking service that is tailored to meet your workplace compliance requirements.
This is generally conducted quarterly or six monthly or as required.
NFA ensures that at each visit:
First Aid Kits are restocked and checked for expiry dates.  Contents are replenished to meet OHS regulations for  First Aid in the workplace
Any old or damaged items and waste will be responsibly and safely removed by NFA.
Each kit will be identified and have an adhesive check / service label placed inside (dated).
Upon completion, NFA provides a written audit report that outlines compliance with the Victorian Compliance Code – First Aid in the workplace.