National First Aid has your event covered
National First Aid offers event coverage for a wide range of events across Melbourne and Victoria.
Our team who manage your event are practicing medical professionals: Advanced Responders, Paramedics, Registered Nurses, Sports Trainers. Each staff member holds a current Working with Children Check and National Police Record Check.
We take pride in delivering high quality service to our clients and are well equipped to manage the most serious of injuries and medical conditions.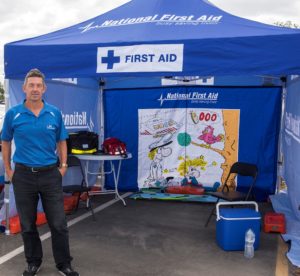 Events Covered
Sporting events
Concerts and music festivals
Exhibitions and conferences
Motorsport and racing
School fetes and athletic events
Movie and TV productions
Charity events, gala dinners and balls
Equestrian events
Community fairs and festivals
Event organisers owe a 'Duty of Care' to provide an environment that ensures the health, safety and welfare of all attendees and employees.
The level of coverage provided for your event will depend on the type of event you are planning, its inherent risks and the size of crowd expected.
Our first aid coverage and support give event organisers peace of mind that their attendees are in safe hands. We'll guide you through the planning and risk assessment process to ensure you get the first aid cover needed to meet your duty of care obligations and provide a safe event.
We make all the arrangements so that everything you need is in place. Our dedicated team will be on hand to endure everything runs smoothly.
What we offer
Risk assessment calculation and provide recommendations based on our extensive experience.
Assist with developing event medical plans upon request.
Post event reporting, complete and thorough documentation of incidents.
Trained and experienced personnel dressed in easily recognisable high-vis uniform.
Equipment and Supplies include
Visible response vehicles and cycles
Medical posts (marquees) to manage patients in a private environment
Trauma kits
Cardiac defibrillator units
Oxygen resuscitation and oxygen therapy equipment
Cervical spine equipment and backboards
Mobile command response radios and communication equipment
Complete our obligation free event booking form and we will be in touch with you shortly.
Whatever your needs, with our experience in pre-hospital emergency care, National First Aid has you covered.